How to Take Care of Your Marble Flooring at Home?
Marble is widely used for home interiors, flooring and decorative structures. It lends a fabulous panoramic view to home and considered as an important element in any esteem architecture and interior design. It is important to know that marble is a sensitive stone, highly porous in nature and quickly absorbs stains. If not maintained properly, it can lose its shine and natural appearance with time.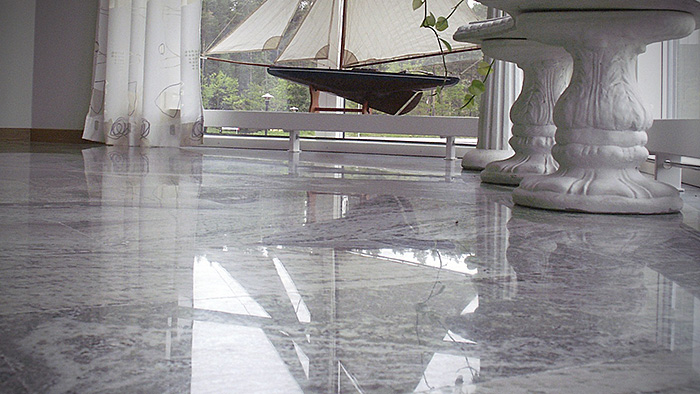 Below mentioned are certain important tips to take care and maintain the natural look of marble:
When some kind of food item or liquid such as fruit juices, carbonated beverages, wine, tea and more containing acid, get spilled on marble floors, they can cause it to scratch or may leave a dull mark on this stone. If you drop any of these items on the marble floor, make sure to gently rub the floor using a clean cloth dipped in a solution of hydrogen peroxide mixed with a few drops of ammonia until it retains its shine.

Make sure not to use vinegar or any other acidic products to clean marble floors. It is very delicate kind of stone that must be cleaned only with PH natural, gentle cleaners.

Always consider using the best quality cleaners to prevent a permanent loss of shining.

Marble floors are quite absorbent and can easily be discoloured by spills from food items, oil, metal furniture, sitting pots, etc. If any of these things spill out o floor, make sure to clean it up immediately using some soap and water.

Another effective way to keep your marble floors look new and shiny is performing a regular cleaning and dusting of your marble floors. Regular cleaning helps to retain the natural shine of marble for a long period of time.

Instead of using hot water to clean the marble surface, you must first wet the marble top with lukewarm water and then clean it using a cloth.

Avoid scrubbing the marble surface unless you see any hard materials present on it.

In order to make the marble surface sparkling and shining, you can apply a quality smooth polishing, after cleaning the surface properly with cleaners.
Consider all the above mentioned tips in your mind in order to maintain the beauty of this precious stone.